Telonics Product Programmer
Telonics Product Programmer (TPP) is a powerful software tool used to program Telonics transmitters, and Telonics CR-5 and CR-7 collar release mechanisms. Several different versions of TPP are available, as noted below in the "Purchasing TPP" section.
Specific programming options and features depend on the TPP version and specific product being programmed; but in general TPP allows you to:
Investigate various GPS collection schedules; Iridium/Globalstar/Argos transmission schedules; and VHF schedules and pulse rates that might be applicable to your project
Estimate battery life and Iridium or Globalstar data collection costs under various scenarios
View programmable settings contained in your transmitter or CR-5 or CR-7 release
Predict Argos satellite overpasses in order to define optimal transmission windows
Save, print, and compare possible programming options
Recognize and correct potential problems as noted in warning and error messages
Switch between pre-programmed Auxiliary schedules in GPS/Iridium units with such schedules available (TGW-4*77-4 models)
Remotely trigger release of CR-5 or CR-7 collar releases when paired with GPS/Iridium units which support such triggered release (TGW-4*77-4 models)
Licensed and authorized users can also:
Program your own transmitters; including making changes right up until deployment
Fully reprogram GPS/Iridium units over-the-air through Iridium
Program release dates into CR-5 and CR-7 collar release mechanisms
User definable settings vary among products, but for most GPS-based systems they include:
Timing of attempted GPS positions, either at specified intervals or under more complex seasonal schedules
Activity, Mortality, and Temperature sensing options
Iridium, Globalstar, or Argos options
VHF transmitter frequency, pulse rates, and schedule
Screenshots
Click a thumbnail to view an image.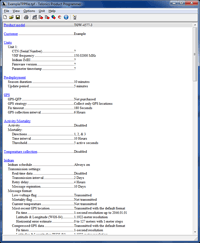 Initial portion of TPP programming record for a GPS/Iridium unit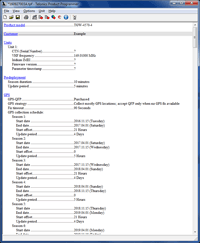 Portion of TPP programming record for a GPS/Iridium unit showing use of QFP and a seasonal data collection schedule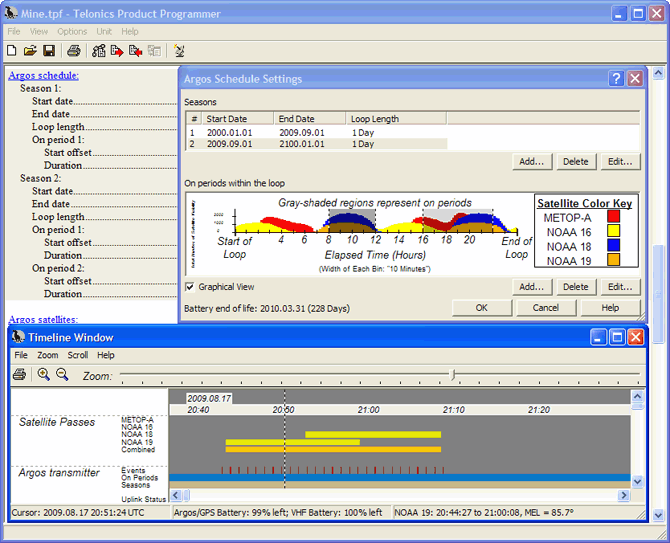 Example of portions of a programming record for an Argos unit
Download
Telonics Product Programmer (TPP) requires an authorization code for complete functionality. Without an authorization code, you are unable to program transmitters or collar release mechanisms. You may install and evaluate TPP before purchasing a license and corresponding authorization code. This will allow you to test various programming scenarios. It will also allow switching among pre-programmed auxiliary schedules as may be programmed into some GPS/Iridium units.
Download v3.99.1852, 2023.08.16 (TPP-Setup-3.99.1852.exe 18,451,392 bytes)
Driver Installation Instructions
Purchasing TPP
When you purchase Telonics Product Programmer, you receive an authorization code that enables TPP support for specific Telonics product models. Listed below are the authorization codes currently available for sale. TPP will not program models that you are not authorized or licensed to use. If you require TPP support for additional Telonics product models, you must purchase an additional authorization code or upgrade to the authorization code that supports all models. However, you won't need to download or install additional software. Please contact Telonics for pricing.
TPP will assume complete functionality when you enter your authorization code in the Help->About window.
A Telonics license permits you to run TPP on only one computer at any given time. Concurrent use of the program on more than one computer is not permitted unless you purchase multiple licenses.
Authorization Code
Supported Models
TPP-GPS
All Gen4 GPS models:
Store-On-Board, GPS/Argos, Spread Spectrum (SST), Globalstar, and Iridium
TPP-ARGOS
Argos transmitters (without GPS)
TPP-RECON
Globalstar RECON GPS units only
TPP-VHF
MK-11 & MK-12 beacons
TPP-CR
CR-5 and CR-7 programmable collar release
TPP-ALL
All models
System Requirements
Configuring Argos Services
If you plan on using Telonics Data Converter (TDC) to convert your data, you must use specific Argos processing options. Before your deployment begins, please contact Argos and request the following settings for your Argos Technical File:
32 8-bit sensors for Argos IDs less than 32768; 31 8-bit sensors for all other Argos IDs (including new IDs)
Message length is variable, so length should not be checked
Decimal/A1 (recommended) or Hexadecimal/A2 formatting
Telonics recommends that you use ArgosDirect (formerly known as Argos Automated Distribution Service or ADS) to receive your data. When you contact Argos, please request ArgosDirect service with the following settings:
Select the "DS" data format, which includes all validated locations and all messages collected by all satellites
Select the "Attached text file (.txt)" output format
You may optionally choose to have your data "compressed"
Do not request data encryption
Select email as your delivery option and specify an email address
Version History
2023.08.16 What's new in version 3.99.1852?
Adds support for two new Argos satellites.
Installs firmware update in TMT-462-3 and TMT-464-3 models.
Installs firmware update in TBTR-4370-4 trapsite transmitters.
2023.01.30 What's new in version 3.99.1835?
Installs firmware update in SeaTrkr units.
2023.01.06 What's new in version 3.99.1832?
The VHF beacon on new Iridium firmware has the option to report mortality regardless of VHF schedule and battery health.
Adds TGM-4180-3 model.
Related Products